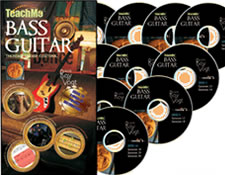 Teach Me Bass Guitar
Rating:
Published By: The Learning Dock, Roy Vogt
Website: www.TeachMeBassGuitar.com
Pricing: $187.50 (25% Off Retail)
For Skill Levels: Beginner-Advanced
Official Website
Review from our sister site, OnlineLessonReviews.com. Reprinted with permission.
For years, there's been a dearth of quality video-based bass guitar courses for new bassists available online. In 2009 that changed in a big way with the creation of Teach Me Bass Guitar, a brand new course from The Learning Dock, a multimedia music education company.
Teach Me Bass Guitar is comprised of 10 full-length DVDs and 20 lessons that clock in at over 16 hours of bass instruction. This is by far the largest bass course we've seen to date. The course contains over a year's worth of bass lesson, so this is not a bass program you'll want to rush through. If you are able to master everything through lessons 10, you will already be a very competent bassist. Though the course was designed with beginners in mind, it doesn't leave you there long. Intermediate bass players will find the course relevant to their development as well.
I'm going to spill the beans right off the bat… Teach Me Bass Guitar is the definitive A-Z bass guitar course on the market today and we highly recommend it. In addition to the accolades Teach Me Bass Guitar has garnered from the greater bass community, it has been the recipient of an AEGIS Video & Film production award in 2009 and a Telly Award.
If I were to detail the course instructor Roy Vogt's credentials, degrees, playing experience, and endorsements, it could take up the space of this entire review. Here's the summarized version: Roy's been playing electric bass for over 40 years, has taught bass at a university level for 30 years, received a master's degree in electric bass performance from University of Miami (the first to do so), and has performed all over the world. He's toured and recorded with big-name artists like Faith Hill, Michael W. Smith, Lady Antebellum, Trisha Yearwood, amongst others. Roy is one of the better bassists on the planet, and his abilities and knowledge really show through in the Teach Me Bass Guitar course. The Learning Dock was fortunate to get him as their instructor. If you want find out more about this Roy Vogt, check out his bio on the website.
Features
One of the first things you'll want to do when starting Teach Me Bass Guitar is copy the lesson book from DVD #5. This full-color, wonderfully-illustrated .PDF is meant to be read alongside the video lessons and contains fret board diagrams, musical definitions, exercises, and extra lesson information. It's a total of 162 pages and takes 540MB of space on your computer. A printed workbook would have been nice, but in order to cut costs (I don't buy the eco-friendly bit) it is omitted from the standard package. For an extra $40 you can add a printed, coil-bound version of the .PDF to your order during checkout, (Tip: You won't see the option until you've finalized the order) but for that kind of money I think we'll print out our own.
Teach Me Bass Guitar makes the most of the DVD format by stuffing all 10 DVDs with pretty much all the lesson content that they could fit in, unlike other courses out there that split up a modest-sized course into as many DVDs as they can to make their product offering look more impressive. The lessons were filmed in widescreen HD and the video and audio quality is most impressive.
There are over 100 play-along music videos where you get to accompany studio professionals. Most of the songs are played 4 times. Once with Roy playing the bass, one without Roy, one at a slow speed and another at a faster tempo. These play-along sessions aren't just tacked on to the end of the course either, but are a vital part of the course. You'll get to experience the fun of jamming with a pro band at least once in almost every lesson. Band musicians include a drummer, keyboardist, guitarist, and even a vocalist from time to time. I'll add that the songs selections are excellent and the music really grooves.
One of the best technical innovations in Teach Me Bass Guitar is the "real time fretboard" that shows what notes Roy is currently playing. This onscreen aid is an incredible tool as it enables you to easily recognize fretting patterns, note placement, and generally removes any doubt you may have in regards to what Roy is doing.
It's easy to miss, but in the onscreen menus, each lesson's DVD menu has an item called the "loop library". When you select this option, you are presented with a list of exercises and songs within that lesson that you can choose to play. Upon your selection, it will loop that particular exercise over and over for easy practicing (No more holding down the rewind button). This is a very helpful and unique feature that I haven't seen in any another DVD courses out there.
Another onscreen learning aid is Ralph moonface, a little avatar that occasionally chimes in to clarify concepts, correct something Roy just said, or just to add a little levity to the lessons. He will also turn a different color to indicate if the current exercise is part of that lesson's "loop library" and another color to show what part of the neck you should be playing on.
How You'll Learn
The course is taught in a quaint and colorful café environment called Chateau Groove, where you'll occasionally see the odd patron drift in and out in the background.
Hosting the Teach Me Bass Guitar course is Ashley Lollis who starts off each lesson by giving a brief introduction and closes each lesson with a word of encouragement and by listing what you absolutely need to know before moving on to the next lesson.
Your personal bass instructor Roy Vogt is one of the most relaxed teachers we've ever come across, is warm and friendly, and isn't boring or tedious to listen to. He knows what he's talking about and keeps the course moving and interesting.
Before moving into each lesson, Roy will typically demonstrate a warm up exercise to get you limbered up and then at the close of each lesson he will lead you through a cool-down exercise.
The basics of playing bass are covered in-depth in TMBG. You'll learn how the bass operates, the notes on the neck, how to move your hand around the fretboard, various picking styles, how to read music and time signatures and a lot more. By lesson 2 you'll already have learned to play your first song. Pretty soon you'll have mastered scales and how to play chords, rhythm playing, modes, tapping, slap bass, and a host of other advanced bass techniques. We found the learning curve was pretty gradual until around lesson 7-8 where the pace kicked up a notch. Throughout, Roy keeps things interesting by bringing in a few of his own students to help demonstrate a playing technique or by sending you off to jam with the band. Roy is methodic in his teaching, and very importantly doesn't leave much to the imagination but walks you step-by-step through the topics presented. Don't be surprised though if you need to watch some lessons over again twice because they do fit a lot into the DVDs.
Sheet music is shown with an onscreen indicator of where you are at any part of the music, which is a big help. No course is perfect though and occasionally on some larger pieces of music, the music notation takes up the entire viewable screen area, which can be a bit annoying if you haven't already learned the patterns or fingering on the neck. Additionally, on smaller computer monitors (under 20 inches), the tab section of the music notation may be a little difficult to read.
While Roy doesn't cover genre playing exhaustively by any means, he does teach many different styles of bass-playing throughout the course. Blues, Jazz, and Rock songs receive a lot of attention, but Funk, Salsa, Reggae, and Afro-Cuban styles are also covered.
Towards the end of the course there are several supplemental sessions where Roy demonstrates how to play on the fretless bass and 7 string bass (during the course he uses a 4 string bass), as well as how to raise and lower the action on your bass, and to use effects in your playing.
Guarantee/Support
Once you've completed the course, you're invited to send in a video performance of you playing the bass which will then be personally graded and critiqued.

If you get stuck or need help from Roy, his personal email is given out in the DVD course.
Another option you have is to head over to ThunderRow.com, TMBG's official community website. There you can interact with Roy and his students. Note that it is a private forum, and access is limited to those who have purchased the course (If you look inside the DVD case, you'll find a special code that you'll need to enter when signing up).
When ordering, you can choose to pay the cost of the course all in one shot or you can pay in 3 equal payments. At the time of this review, there doesn't appear to be any additional administrative fee to use this option, so take advantage of it to keep your money in your wallet a little bit longer.
By default, a BuySafe.com bond will be placed on your purchase. This bond protects your purchase from price drops, guarantees the amount you paid, and includes identity theft protection. It's up to you, but I'd uncheck the bond unless you're concerned about future price drops (which we haven't yet observed).
Guest checkout isn't currently an option, so you will need to create a profile to order. Credit cards and PayPal make up the accepted payment methods.
Recently, The Learning Dock upgraded their money-back guarantee from 30 days to 90 days, which shows the kind of confidence they have in their product.
Conclusion
Teach Me Bass Guitar is the most comprehensive bass course we've come across for the serious bassist. There's no way you could get private lessons with someone of Roy's caliber for anywhere close to the price tag TMBG goes for.  Add to the fact that innovations like the real time fretboard and live jam alongs make learning the bass easier and more enjoyable than ever before.
TMBG will give you all the tools and information you need to play in pretty much and kind of situation you find yourself in. As their website says, all you have to do is provide the practice!
Official Website
Other Bass Courses